2021 Kia Forte

Find your next Kia Forte at Covina Kia
The new Kia Forte is an outstanding compact car that does everything well and has an appealing list of features. It makes a great family vehicle for Pomona and surrounding areas. It gets quite good gas mileage and its performance feels excellent with the upgraded engine. There's a nice mix of trims and packages to let you customize the Forte to align with what you need. It is a jack-of-all-trades car because while some other models might have a sportier feel or more space, nothing succeeds in as many different categories as the Forte. It manages all that at a reasonable price.
Your road. Your rules.
With powerful engine options, technology innovations, exceptional fuel economy, and sleek styling, Forte breaks the rules so you can rule the road.
Based on its looks, Kia knows you'll see the 2021 Forte and think of the brand's excellent Stinger sports sedan, but this compact car is more value-focused than performance-oriented. Its starting price is thousands less than segment leaders such as the Honda Civic, the Mazda 3, and the Toyota Corolla, but the Kia delivers similar features, excellent fuel economy, and plenty of styles. Buyers will get a fairly anemic 147-hp four-cylinder in most trims but a 201-hp turbocharged four is included in the speedier GT model. That version's driving dynamics live up to its sporty looks, but the rest of the lineup does, however, deliver a calm, easy ride and lends itself well to highway cruising duties.
Kia Forte Model Lineup
The base Forte FE is reserved for the hypermilers. Starting at $18,885, it achieves its attractive price point by mounting the Forte with small 15-inch wheels and skipping lots of additional equipment. It comes standard with a 6-speed manual, cloth upholstery, and an 8.0-inch touchscreen with Apple CarPlay and Android Auto.
The $20,385 LXS is where most buyers will want to start shopping. Besides making the CVT standard, the LXS offers split-folding rear seats, 16-inch wheels, and multiple drive modes.
For $21,385, the GT-Line includes LED lights, blind-spot monitors, synthetic leather upholstery, and sport seats with 6-way power adjustment. Sporty touches include 17-inch wheels, a rear spoiler, red contrast stitching, and gloss black trim.
Spend another $2,300 and you can get the $23,785 GT. This pairs the GT-Line's sporty touches with a 201-hp turbo-4. Among the upgrades unique to the GT are 18-inch alloy wheels, an independent rear suspension, and LED headlights. Other touches include ambient lighting, a power sunroof, Harman Kardon audio, wireless device charging, and parking sensors.
The $24,085 EX doesn't get the big engine but does feature many of the GT's creature comforts. Other amenities on the EX include dual-zone climate control, heated and cooled front seats, and navigation.
Kia Forte Exterior
The Forte doesn't try to tread any new stylistic ground. It looks like, well, a sedan: a defined three-box shape wearing harmless styling. The front and rear ends don't convey any attitude, and you won't find bristling details or massive air dams or even strongly-defined body creases. It's a vanilla design, handsome and inoffensive.
The GT and GT-Line try to stir things up with a small spoiler and a few other touches, but the 18-inch wheels are about all that give it away. Otherwise, it's a bit of a sporty compact; there's none of the posturing that's evident in the Honda Civic Si or Volkswagen Jetta GLI.
Kia Forte Interior
Simple, straightforward, and attractive, the Forte's interior feels a class above its price point thanks to details like the stylish round air vents and tasteful trim. Higher trims like the GT-Line and EX are particularly nice, as they drape a few more soft-touch textiles over the dash and door panels.
The centerpiece of the cabin is the 8.0-inch touchscreen. It comes standard with Apple CarPlay and Android Auto, and navigation is optional. The infotainment software is easy to use and doesn't present much of a learning curve.
Comfortable seats can be upholstered in either cloth or synthetic leather; the latter feels and looks durable. We like the base cloth seats, despite their limited manual adjustment. The GT and GT-Line have the most aggressive bolsters of the lineup, but they don't sacrifice comfort for the extra lateral support.
The Forte's 15.3 cubic feet of trunk space is generous for a small sedan, but if you want more flexibility with carrying cargo you'll need to skip the base model—it's the only trim that doesn't come standard with a split-folding rear seat.
Kia Forte vs Hyundai Elantra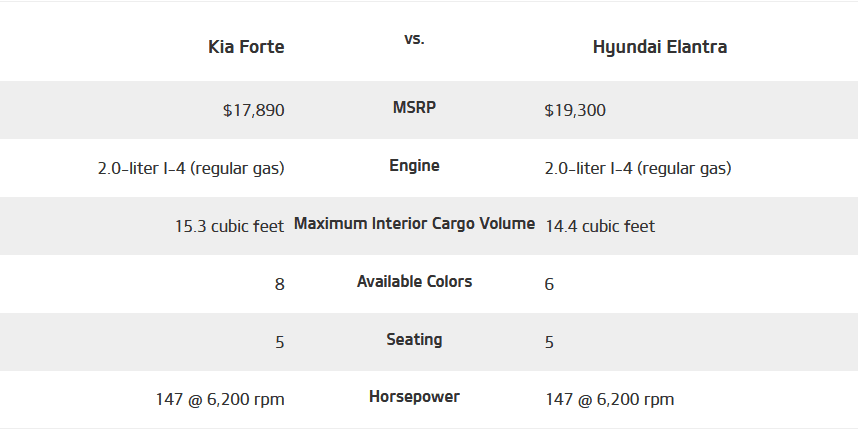 Kia Forte vs. Hyundai Elantra – Price
The starting MSRP of the Kia Forte comes in over $1,000 less than the Hyundai Elantra. This is surprising since the Elantra doesn't really offer more features than the Forte. In fact, we believe the Forte edges out the Elantra in some areas, making it by far the better deal. Backed by our Sunset Auto Family exclusives like Warranty Protection for Life™, you'll be sure you're getting the best deals.
Kia Forte vs. Hyundai Elantra – Color Options
The main differences between Forte and Elantra, besides the price, are cosmetic. This is another area where the Forte edges out the Elantra. The Forte gives you more options to customize the look of your car. For example, the Forte comes with eight exterior color options, compared to just 6 from the Elantra.
About Covina Valley Kia:
Covina Kia proudly serving the needs of Kia owners and shoppers from Pomona, Alhambra, Ontario, Cerritos California, and surrounding areas. Contact us today online or call: 623-736-4275